A good note: two UTA alumni create a local music group | New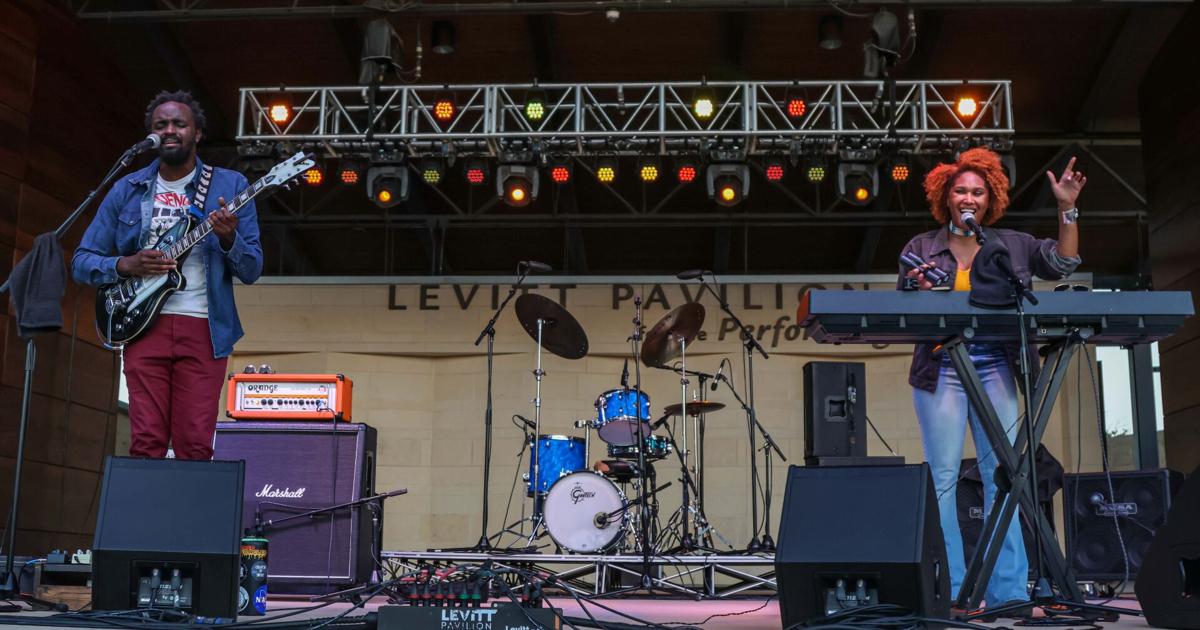 Five years ago, UTA alumni Oladipo Oyediran and Kayla Scales were playing music together as a part-time hobby at a bar in Kathmandu, Nepal. After facing several setbacks overseas, they returned to Texas and began to take their music a little more seriously.
The duo eventually created Igimèjí, a Dallas-Fort Worth-based band that describes their sound as a blend of R&B and alternative with some fusions of jazz and rock.
Oyediran and Scales act as vocals and instrumentalists for the band, with Aaron Morgan on bassist and Jelen Farrow on drums.
The two met at Tarrant County College before transferring to UTA and started playing music together in 2016. In 2017 Oyediran moved to Nepal to teach and Scales soon followed, evolving their chemistry musical.
Scales said she began her musical journey as a child taking piano lessons and later joined the Lawrence Dale Bell High School Marching Band. Before attending UTA, she studied music at TCC and took lessons from a Ukrainian pianist.
Her teachers at UTA helped her become a classical musician, she said. Their honesty helped her become a better artist in the long run.
Scales said one of the pitfalls of UTA was that there was no navigation for students who wanted to become professional recording artists.
"There were a lot of pieces and things that I had to figure out on my own because none of my teachers had ever really been an artist," she said.
Oyediran said he learned drums for his church in Nigeria and continued playing when he moved to the United States in 2005. Throughout college, he was unsure what career he would wanted to.
"I didn't study music and didn't go to music school at all. I was just going to study for a degree, get a good job, work hard," he said.
But then Oydiran said his life took a different turn more towards music than teaching.
"By the time we came back from Kathmandu, we were basically completely invested in just being artists," he said.
Morgan said he joined the band around 2020 and quickly got on with the band and appreciated how open Igimèjí was to his playing style. Scales and Oyediran, in his mind, were central to the project.
"We operate as a kind of community, and the music is the band. We are all fighting for this music to be heard," he said. "It's something everyone believes in."
Scales said she was inspired by singer-songwriters like Alicia Keys and Nina Simone. Oyediran said one of his biggest influences was John Mayer as well as artists like Coldplay and Childish Gambino.
Scales and Oyediran said they were involved with Football Team: A Creative Collective, a non-profit organization founded to form a cohesive bond between UTA and the local artist and business community, according to the organization's website.
Oyediran said he thinks UTA ​​could also help promote independent artists on campus.
UTA, due to the available stages, has the opportunity to elevate local artists, but it has yet to maximize its potential, he said.
Igimèjí is currently focusing on writing music to release an album later this year.
Scales and Oyediran said they plan to bring in a manager to help them take their careers to the next level. Oyediran said he was looking forward to the band playing bigger shows.
Igimèjí have used urban advertising to their advantage, posting stickers of their faces floating around town with QR codes that lead to their music. While he scattered the codes around Arlington over the years, Oyediran said he tried to put them in places where they would be left alone.
He said it was a good time to be an independent artist and that social media like TikTok and Instagram helped independent artists book their own shows, set royalties and distribute their music.
"It's a golden age to be able to be an artist and grow," he said.
@4nsmiley