Art with a Purpose, musical promiscuity in Pasto Italiano – Hamilton County Reporter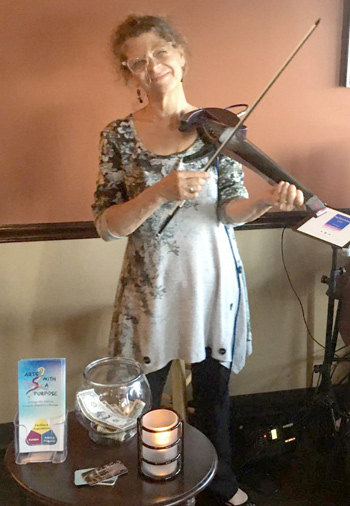 By STU CLAMPITT
[email protected]
The reporter caught up with musically promiscuous electric violinist Cathy Morris this month at Pasto Italiano, 3150 E. State Road 32, Westfield, as she entertained diners with violin music of various genres.
Morris spoke to The Reporter about his musical journey and his non-profit organization, Arts with a Purpose, which works with marginalized communities.
"I call myself musically promiscuous because I'll play any style with anyone, anytime, anywhere," Morris said. "In a nutshell, I founded this organization which looks a bit like a booking agency. I connect artists from all disciplines – music, dance, visual arts – with communities that don't necessarily have the arts available to them.
Morris works with a pool of artists which, although its composition varies, sometimes has up to 80 artists available.
"We work with children and young people, we also work with adults and older people," Morris said. "We go to independent adult care centers. They never really had great arts. They always had craftsmanship, but never real art. Communities and neighborhoods. Displaced caregivers. We try to do things for caregivers. Just people who can use the arts as an opportunity and maybe therapeutically as an opportunity for healing.
Morris founded the organization as a nonprofit in 2016. At the start of the pandemic, Arts with a Purpose produced 35 outdoor concerts in yards for low-income senior housing.
"Before that, I went back and forth — but mostly back and forth — for about a decade because I had grandkids in California," Morris said.
Morris has been involved in music since a young age, and she learned in college that she wanted to learn music from musicians rather than an institution.
"I come from a family where my dad was a bassist, a music teacher, and led a local symphony in Columbus, Ind.," Morris told the reporter. "In the 70s and 80s, it was quite the artistic Mecca. My mother was director of the arts council there. I was able to see from an early age how to produce different artistic activities by working with different disciplines.
Morris attended Indiana University to study classical music, but said she found it all "too serious" for her taste.
"So I just jumped in there and started getting gigs and hiring people who were crazier than me and learning from them," Morris said. "There was everything from bluegrass to country to Cajun, Celtic, blues and jazz. I really dove into it. I just made it a point to be the flute player on the violin. I am the lady of the violin!
Morris told the reporter she was happy to work with anyone who has an artist, organization or place that needs the arts.
Based in Indy and offering services throughout central Indiana, you can contact Morris to discuss the arts with a purpose at [email protected].
To learn more about Morris and his music, visit CathyMorris.com.