Born to Dance — Catherine Knight: Multimedia Artist 'Visual Music' | Valley life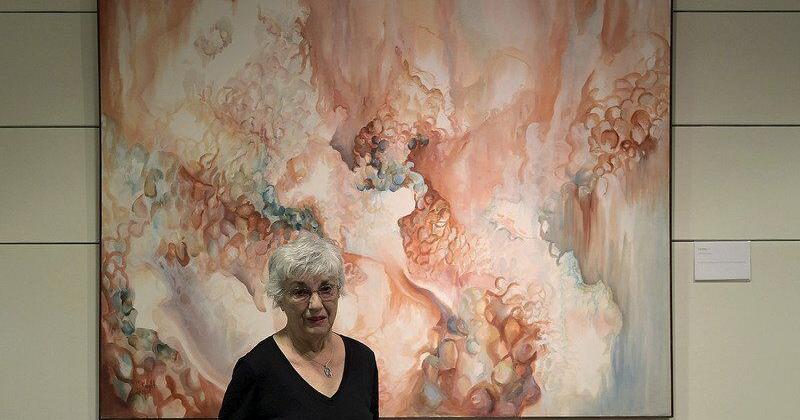 Some people prefer to dance romantically, cheek to cheek in the moonlight. Others, 21st century rock or hip hop, country line dancing, salsa or ballroom dancing. Boomers sometimes spin their versions of the "funky chicken" at class reunions.
Terre Haute artist Catherine Knight is a Wabash Valley resident who often dances alone until the early hours in the basement art studio of her home. As she creates an outpouring of art from her overflowing imagination, she dances almost continuously in front of her easel or worktable, allowing the rhythm of the music and the tapping of her toes to move her brush and her mind to new and bold way.
"My paintings are my visual music for a one-person audience," she said.
Knight was born and raised as one of eight children in a family of impoverished Italian immigrant parents who resided in Duluth, Minnesota. The family radio was tuned to a station playing classical music, and her parents had an old piano in their home. All of Knight's siblings were influenced by their parents' love of music. One of his sisters played the accordion professionally until she was 80 years old. Three brothers also became musicians, and one still plays in the Duluth Symphony Orchestra. Knight started dancing to the music.
"I think making art should be fun," Knight said. "While I'm doing my art, I listen to my favorite music and dance to opera tunes or works by Chopin. I love dancing to the music of 'Symphonie Fantastique' by Hector Berlioz.
"I'm not really a good dancer. As the music moves me, I make free movements of my legs and my body.
In June and July, the Swope Art Museum features an art exhibit of the different types of Knight's work that made her so famous in the Wabash Valley. The name of the show – naturally – is "Born to Dance".
"'Born to Dance' really describes the spirit of Catherine's work and her free-spirited approach to creating art," said Swope curator Amy MacLennan. "She is just wonderful. She doesn't hesitate to push her ideas until they can't be pushed any further. The result is experimental and delightful art.
The Swope exhibit on Knight's art was made possible when an avid collector of his works, former Terre Haute resident Neil Nelson, moved to Florida and couldn't take all the art with him. of Knight that he owned. He contributed 15 of his framed works of art to the Swope.
"We are grateful to Mr. Nelson for providing us with such a large and impressive collection," MacLennan said. "He donated enough artwork for 'Born to Dance' to showcase Knight's different types of art. Additionally, the show will include pieces on loan from private collections and examples of her original jewelry.
Knight's vibrant acrylic oil paintings on paper and canvas are distinguished by exotic flowing patterns highlighted by luminous splashes of bold color, a flow of imagery inspired by his dancing music. Her most exuberant works are often painted as she feels inner ecstasies as the music she dances to reaches crescendos.
"I'm a pretty intuitive artist. I don't know how my paintings will end when I start them. Sometimes, after starting a painting, I don't see how to go any further. I am getting angry. I stop painting until a satisfactory idea of ​​how to proceed comes to me. If an idea comes to me — a color that speaks to me — I get back to work right away. I will stay up all night until I finish an oil. If I work on a piece that I don't like after seeing what it has become, I throw it away and move on to another.
Knight has also made a name for herself with her dazzling multimedia paper art, which she learned at Indiana State University. She acquired the knowledge to make her own art paper from yucca, iris and hollyhock plants. She occasionally grew these types of vegetation in her garden before cooking the weeds in a vat to kill the organic matter. After further processing, she uses a press to squeeze the water out of the paper. Handmade paper will normally be laid on a custom die and possibly colored or inlaid with artwork such as Egyptian symbols.
"Making art with layers of paper is laborious," Knight said. "Once I place one sheet of paper on top of another, it merges and cannot be changed. If I make a mistake, I have to abandon the project and start another one.
Knight credits his former ISU art teacher, David Erickson, with teaching him printmaking, which is accomplished by making precise molds forming the inverse image of what a print made from an engraving will look like. on wood when the ink is applied to the mould.
"I've been interested in art since I was a kid," Knight said. "When we were kids, we made art, our parents praised our work."
Young Knight started impressing people besides his parents with his art from an early age. A sixth grade teacher was so impressed that he kept examples of his art on display in his classroom for 15 years. His ninth grade drawing of a big fist in a "DRINK – DON'T DRIVE" poster contest won him a prize.
Knight had no college training as an artist until she moved to Terre Haute in 1977. Her move to town was a side-effect of her decision after high school to attend a trade school in Minnesota, where she learned to type. The FBI came to his university looking for recruits who would move to Washington, D.C., and work as typists. She agreed to go, and she came to like Washington, although she hated typing. More importantly for Knight, while living in DC she met her husband, Joel. The couple are still married and have four adult children.
Her new husband was in the Air Force. After marriage, Knight's next part of life was to be a globetrotting Air Force bride until her husband was posted to Hulman Field in Terre Haute.
"During my time traveling from base to base with Joel, I followed my artwork while raising my kids," Knight said, "I was very traditional. I could paint everything I could see. I even won a few contests at art shows, but the people I was competing against were hobby painters, not professional artists.
Shortly after arriving in Terre Haute, Knight enrolled in art classes at ISU.
"My schooling at Indiana State forced me to expand into new areas," she said. "I studied different forms of painting as representation. I learned photography, ceramics and engraving.
"At the ISU, I received training on the use of the metallurgical tools necessary for the manufacture of my enamelled jewellery. My jewelry often has components like bits of copper wire and tubing. I even went to Goodwill to buy junk jewelry. I take it apart for parts to use in my original jewelry. … A lot of people around Terre Haute have some of my jewelry. For several years I sold my artwork to The Station Floral Hair and Design Studio.
After eight years, Knight completed her undergraduate degree. One of her art teachers, Fred Bunce, encouraged her to do an MFA. The ISU then granted him a full scholarship to work on his MFA. Upon completion of her MA, she worked for three years as a gallery manager at St. Mary-of-the-Woods.
She eventually focused on making her own works while teaching art at the Swope.
"Art isn't about making money for me," Knight said. "I just want to earn enough to pay for my art supplies."
Representing the ISU, Knight was for a time one of Indiana's traveling performers. His art has often been judged in the Indianapolis Museum of Art's sales gallery, as well as other galleries around the world and Indiana galleries in New Harmony and Greencastle. Some of Knight's works have found their way into collections in France and China. In Terre Haute, his work is often exhibited at Arts Illiana.
"Terre Haute is a good city to be an artist. I've always enjoyed being around other artists who move here," Knight said. "I am happy that over the years the people of the Terre Haute region have become more receptive to sophisticated art forms."
Knight still actively creates art by sliding, sliding, and stomping around his worktable or easel.
"Recently, most of my artwork has been jewelry," she reports, "but I like to change the subject. I've also done a few paintings and a few prints.