Local music fans are 'super excited' for the return of the Roots North Music Festival (3 photos)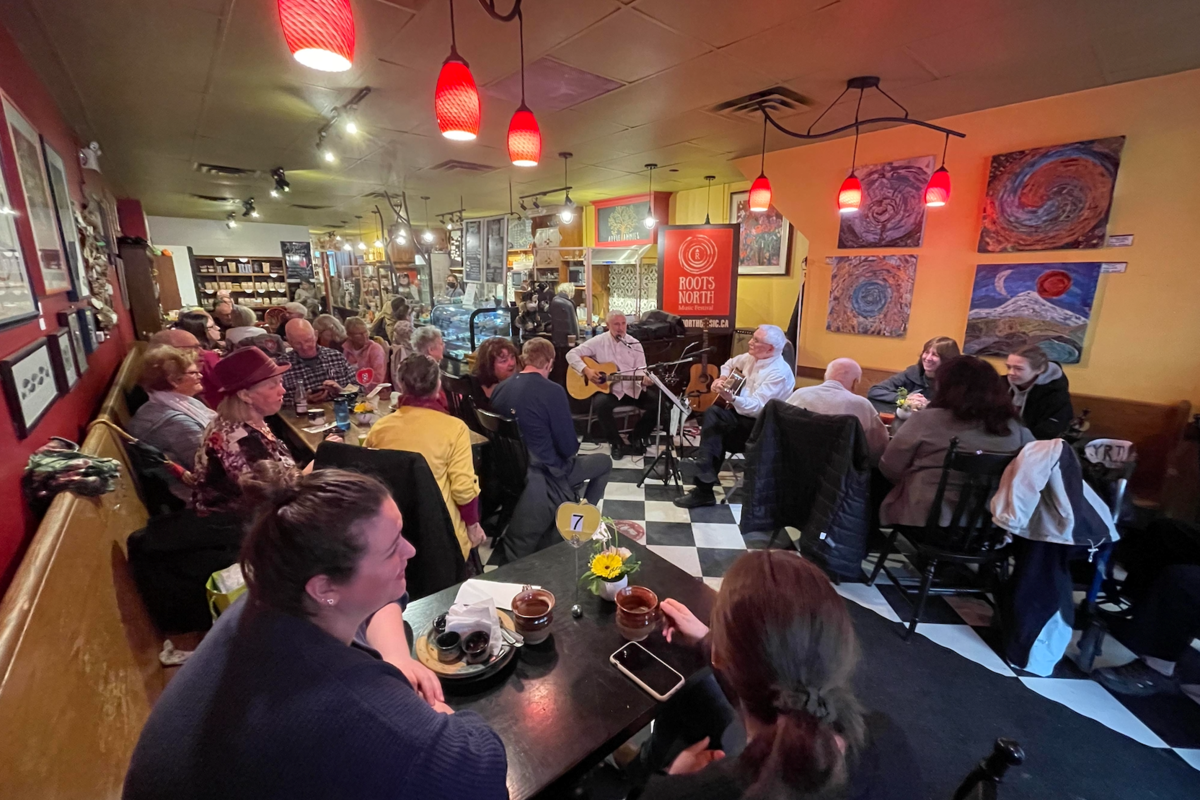 "The vibe is great," says the local artist. "It's a weekend of everyone downtown and excited to hear music"
The rain failed to dampen the spirits of local music fans who enjoyed the Roots North Music Festival today.
Concerts take place throughout the weekend in several venues around the city. It's the first year of a return in person for the popular event after a two-year hiatus due to the pandemic.
One of the event organizers, Amy Mangan, says there are plenty of new venues for this year's event. It would be hard not to stumble upon a concert this weekend while walking around town, she joked.
"We started expanding beyond our downtown area this year," Mangan said. "We are seeing places like Lot 88 on Memorial Avenue on board this year. The Orillia Music Center at St. Paul's Center also participates in some family programs. It's really cool to see.
Although it has been delayed by the pandemic, Mangan says the event is on track in terms of increased size and popularity.
"The community is super excited about it, and so are we," she said. "We have a lot of companies that wanted to be part of it in any way possible. Other companies asked how they could be part of it in the future. In fact, we are already planning next year's festival.
Based on community feedback, Mangan says the festival was missed during the COVID-19 pandemic despite the virtual formats.
"Just hearing live music after not hearing it for so long really sends shivers down your spine," she said. "People are so grateful for this experience."
Mangan says there's nothing like live music in how it can energize people and a community. This year there seems to be a whole new appreciation for the festival, she said.
"It was a little reminder of why we do this," she said. "We realized how important it is for us as a community to come together and share a positive, uplifting and emotional experience."
Keith Baker of Orillia says he has attended the festival for seven of the eight years it has been in existence. He says there's nothing quite like being in an audience and being entertained by a live performer.
"I love the community of this one," he said. "I love discovering new local artists."
Baker intends to spend the entire weekend in front of the various stages of the city. The highlight of his weekend so far has been seeing Terra Lightfoot on Friday night and he can't wait to see the Ronnie Douglas Band at Brewery Bay Food Co. tonight.
"It's going to be a great weekend for music," he said. "I'm really excited."
Baker, 72, also enjoys visiting Orillia and supporting local businesses during the festival.
Sam Johnston, singer-songwriter of blues, old-school country and folk, performed this afternoon at Picnic.
"The vibe is great," Johnston said. "It's a weekend of everyone downtown and excited to hear some music."
Johnston says she can't wait to be in the community and support other artists this weekend.
"The fact that this event is largely local and happening in all different venues helps the atmosphere," she said. "It brings the support component to small businesses as well as local artists."
Johnston says the festival is a great opportunity for all musicians to connect with each other and with their fans.
The four-day festival culminates with a performance by Jamie Drake at 4:30 p.m. at Hog N' Penny on Sunday. For a full schedule and view listings, click here.