Two rock bands from rage to silence
On Friday night, Cafe Nine hosted two bands – Snake Oil and Rex – both of which had been out of service for some time. Connecticut and New York-based Snake Oil hadn't played since 2019. Rex's current run of shows was the first since their unceremonious split in the late 1990s. – rex, VS and 3 – played a pivotal role in the development of the indie rock subgenre known as slowcore. With two-thirds of records having seen a recent re-release, the once-Brooklyn-based band by-way-of-Maine have come together to introduce their songs to a new generation of audiences.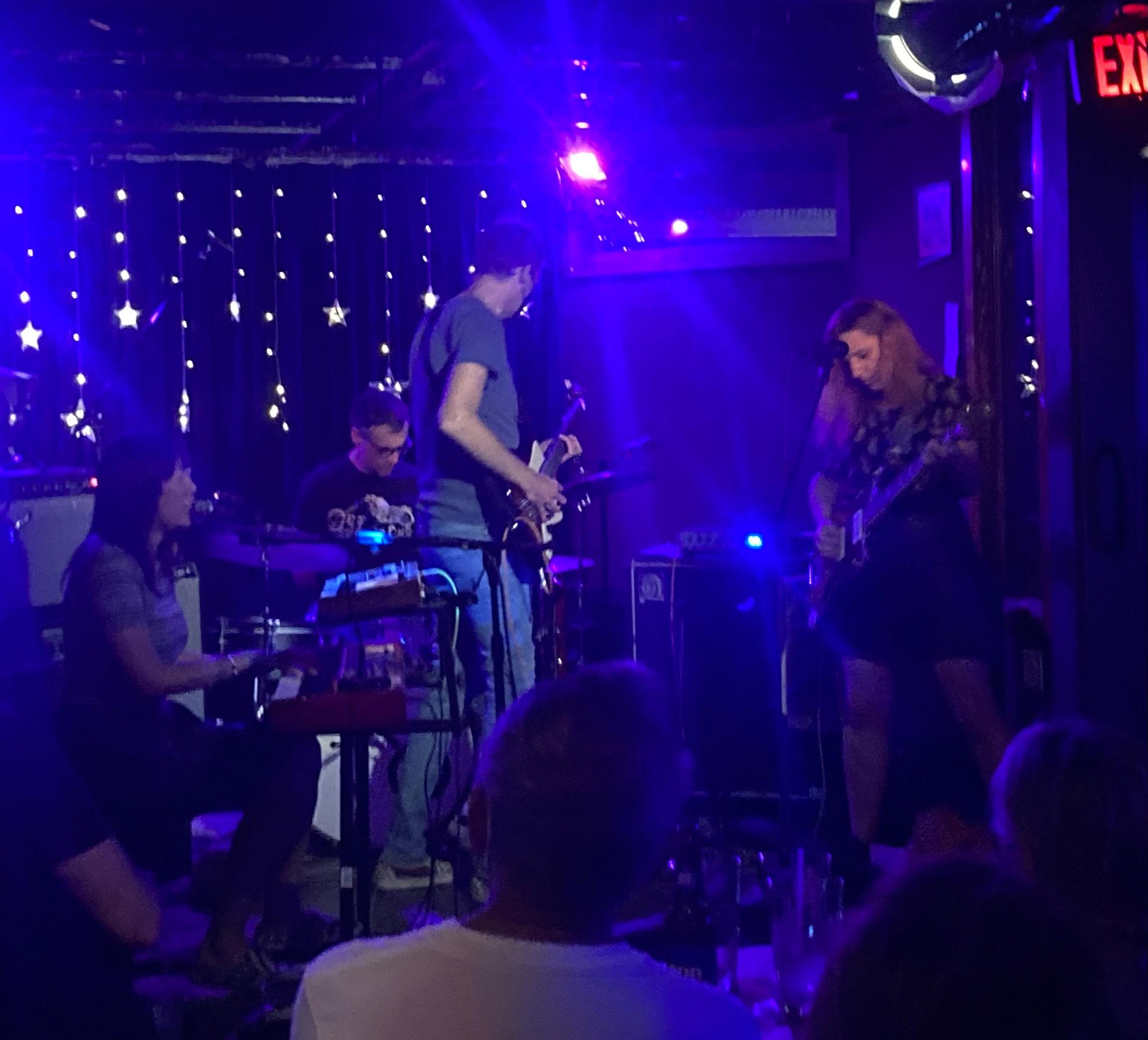 Snake Oil started the evening with their take on psychedelic indie rock, the quartet locking into a deceptively complex groove that had the audience nodding. At the heart of Snake Oil's songs were the rhythm section – drummer Jason Labbe and bassist Adrian Van De Graaf – whose driving pulse laid the groundwork. In the foreground were keyboardist/vocalist Emily Lee and guitarist/vocalist Kelly L'Heureux, who worked on each other to create an ethereal mix of ​'70s psychedelia and ​'90s indie rock.
With barely a look at the audience ​'the group stormed through a short series of haunting songs, with Lee taking lead vocals for the majority. In times when Lee and L'Heureux shared vocal duty, such as at the end of ​"Pattern of Skulls", the voices of the duo weaved into each other in a haunting melodic spiral. The band closed their set with ​"Blood Moon", the last track of their 2019 album,Dying of sunsets; it was a song that glided over L'Heuruex' serene guitar playing, slowly dissolving into silence.
With barely a word to the audience, Rex played a long set of their slow, moody indie rock. The core trio of guitarist/vocalist Curtis Harvey, bassist Phil Spirito and drummer Doug Scharin were joined by an additional keyboardist, adding texture and fullness to the band's sound. More like a group of ​"cool dads" than rockers, the group has been browsing fan favorites like ​"Nothing is more honorable than you" and ​"High School Dance Hit," Harvey's quirky voice endearing in a way that can only work in ​'Music from the 90s.
Rex's loud-quiet-loud dynamic, anchored by Scharin's powerful precision drumming, proved even more potent live than on record. The band sounded as completely in control in near-silence as it did with searing distortion.
As the set continued, the audience began to filter out, but a dedicated band remained up front, rocking out to every song. An audience member even convinced the band to do an impromptu version of ​"This Is A Recording," a more jagged angled cut from their debut album.
"We missed you too," Harvey replied to someone in the crowd during a break between songs. It was clear that the band was happy to be back and playing their old material, and that feeling of joy was reflected in the music.
Sign up for our morning newsletter
Don't want to miss a single Independent article? Sign up for our daily email newsletter! Click here for more information.