Will the globalization of music break new artists? dhruv proves he can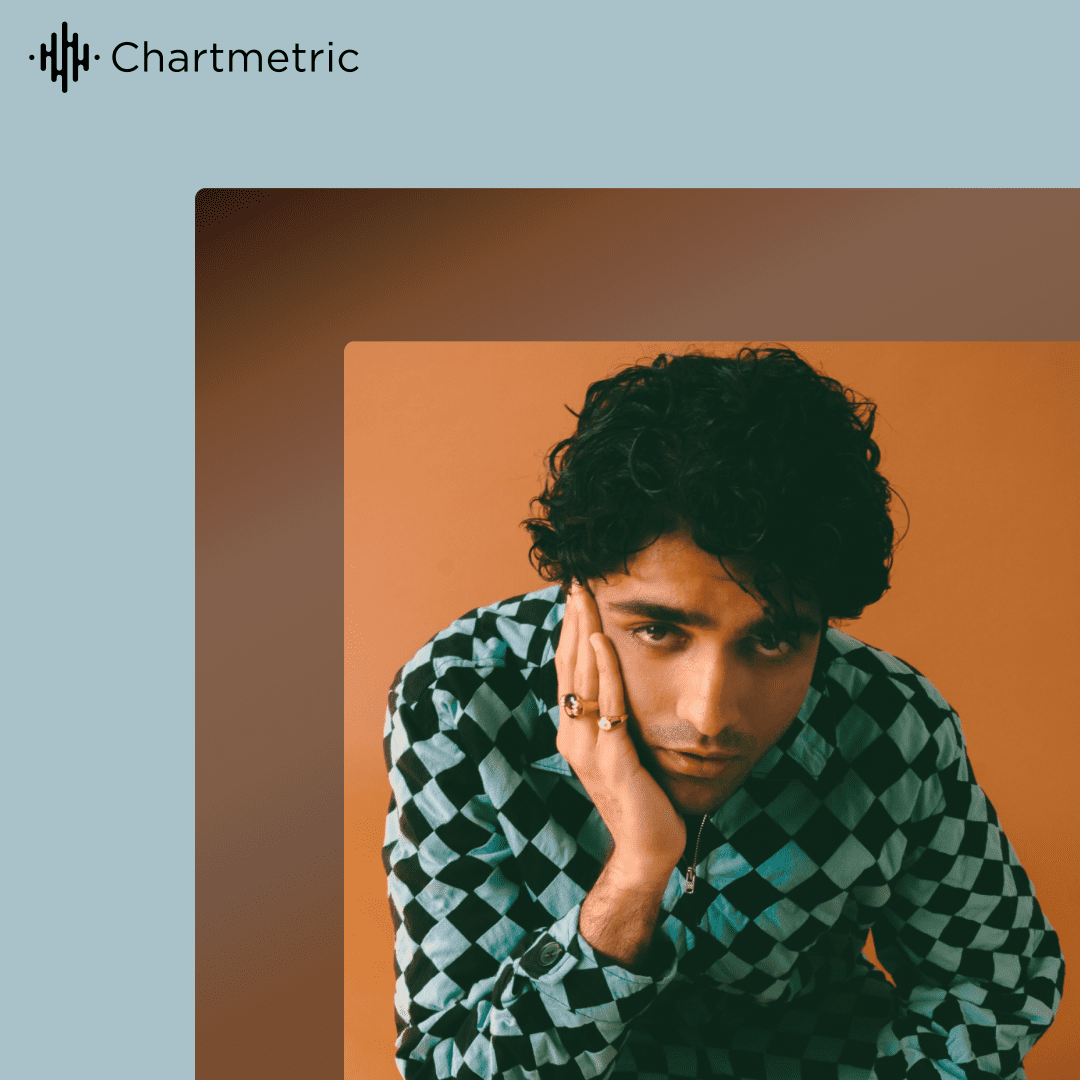 dhruv's international roots have helped it establish key audience strongholds in Trigger City markets, fueling its explosion on the global stage.
by Michelle Yuen by Chartmetric
If any artist embodies the globalization of music, it's dhruv. Born in London to Indian parents, dhruv grew up in Singapore, studied statistics and data science at Yale University, then moved to New York before ending up in London again. Like many developing artists, dhruv initially thought he had to be in the United States to launch his career, but in today's rapidly globalizing music industry, that no longer seems to be the case. .
Although dhruv has a few pre-2019 recordings on his SoundCloud, the sleeper hit "double take" is arguably his first official track. Released on Spotify on May 24, 2019, the track was slowly but steadily added to third-party playlists, most of which had fewer than 100 subscribers. It was briefly picked up by Hits for vårsemesteret, a custom editorial playlist from Spotify in Norway, but none of the biggest independent playlists it landed on topped 10,000 subscribers.
So how did dhruv explode? As of June 2019, dhruv had Spotify listeners in Canada, the UK, Hong Kong, India, the Netherlands, Singapore, and the United States, likely due to dhruv's track record and where his friends and family are based. This type of development is not unusual for an independent artist, but the point to note here is that his fan base was global from the start thanks to his international roots.
Trigger Cities and the globalization of music
From February 2020 to March 2020, the track "moonlight" was picked up on several New Music Friday playlists in Southeast Asia. Without a direct statement from dhruv, it is difficult to confirm whether this happened organically or if other departments were involved. Considering some of the cities in which its audience has started to grow – Singapore, Mumbai, Bangalore and New Delhi – the concept of Trigger Cities comes to mind.
To briefly summarize, Trigger Cities develops music marketplaces that "trigger" favorable algorithmic effects on streaming platforms and thus help expand an artist's audience. First identified in 2019 by Chaz Jenkins, Chief Commercial Officer of Chartmetric, this framework has since been used by companies like Stellar Trigger Marketing to develop artists such as Vaultboy, NIKI, PinkSweat$ and Jackson Wang. Many labels' A&R teams also use Trigger Cities to identify unsigned artists who make up a small but large global audience. Friends and family can be an artist's strongest supporters, especially when artists are just starting out, so it doesn't hurt when those advocates are located in key cities that seem to sway global streaming algorithms.
The main characteristics of Trigger Cities include the diversity of musical tastes (i.e. not only the national repertoire) and a high consumption of streaming music, probably due to factors such as high population density, the high mobile usage, community proximity and advanced use of social media. Many Trigger Cities are actually in "emerging markets" because technology has rapidly democratized mainstream access to music. Users in these markets, especially in southern hemisphere societies, tend to share and interact with music much more freely and frequently on social media than users in Europe and North America. This, in turn, contributed to the more rapid and geographically dispersed growth of potential audiences for artists, particularly in Latin America and Southeast Asia.
The median age in "less developed" regions tends to be much younger, i.e. much closer to the main target age group for music (18-24), than the median age in "more developed" regions. A combination of colonization, trade, migration and tourism means that these countries and their diasporas tend to be multilingual and more receptive to other cultures, media and entertainment. Comparatively, traditional markets like the US, UK, Western Europe and Australia are oversaturated and competitive. All of this isn't to say that it's easy to break into Trigger City markets, but there are undoubtedly a host of potential fans outside of the common Western markets – highly social, digitally engaged and eager to consume fans. new music.
The global trajectory of dhruv's music
As always, the influence of Trigger Cities is only part of a bigger picture, but what remains true is the audience impact and opportunity in these cities. In dhruv's case, in early 2020, his tracks landed on several New Music Friday playlists, mostly all over Southeast Asia, which instantly skyrocketed his list's potential reach. playback on Spotify from 13.39,000 to 1.03 million subscribers. This immediately converted its daily Spotify subscriber change from single-digit to double-digit, while its average monthly Spotify listener change increased from 129 to several thousand per day. Not only did it directly grow audiences in Indonesia, Malaysia, the Philippines, Thailand, Vietnam, and Taiwan, all of them from Southeast Asia except the latter, but it also started gaining fans in Australia and Norway.
Over the following months, dhruv continued to reach new listeners around the world, from cities in Brazil, Chile and Mexico to locations in Germany, France, Poland, Turkey and New Zealand. By the time he released his next single "vulnerable" on July 17, 2020, his global audience was ready for him. With placements on New Music Friday in Egypt, the Levant, the Gulf, the United States and throughout Southeast Asia, his audience on Spotify continued to reach new heights.
Its growth then remained relatively stable until April-May 2021, when TikTok users in Indonesia and neighboring countries began using the "double take" as a backing track for their videos, many of which were music videos from K-Dramas or K-Pop. boy bands.
This helped the track enter several Spotify Top 50 and Viral 50 charts, again, mostly in all of Southeast Asia, with the early exception of Viral 50 – Global. "double take" also landed on Hot Hits and Pop Rising in the same countries. Although the track entered the bottom of many of these lists, it often quickly reached a peak position in the Top 10, increasing consumption even further.
As the track continued to go viral around the world via TikTok, thanks to trends like the photo crop challenge, the "double take" also made it into editorial playlists like Pop Sauce and Alternative R&B. Bigger editorials like Pop Rising (USA) and Fresh & Chill quickly picked it up, helping it to appear on more Viral 50 charts internationally. Individually, these playlists range from several thousand to over a million subscribers, and with their combined reach (plus a little help from TikTok), it's no wonder dhruv's growth has taken off from exponentially. By the end of 2021, his Spotify and Instagram fan base grew by 674% and 595%, respectively, while his monthly Spotify listeners and YouTube channel views reached peaks of 8.2 million and 95, respectively. ,5000000. dhruv has signed to Sony Music's flagship label RCA Records, released a new song "stable life" in celebration, and – fast forward to today – is currently on a series of shows in the United States. United, including opening for Joji on his SMITHEREENS tour.
A global model to break into new artists
From 2019 to present, dhruv has had an incredible journey, especially since he was an independent artist for most of that time. It also speaks to the fact that music is always where it all begins. Understanding algorithms, data, and trends like Trigger Cities and the globalization of audiences is a key piece of the puzzle, but that knowledge works best with an understanding of the artist, their journey, and the story they tell.
In the case of dhruv, her international background and the open emotional lyrics of her lived experiences laid the groundwork for her to journey through cyberspace and transcend borders. Technology has paved the way for consuming music in the digital form of streams and views, but it's also just one avenue to explore and one source of income. Artists that expand through Trigger Cities can release new material on a regular basis, but that doesn't seem to be critical. Oftentimes, consistent support for Hero Tracks seems to be what ensures sustainable growth. The personal bond formed between an artist and their fans is what really builds a lasting career: numbers mean little without real people behind them.
dhruv is truly a special artist. Watching her rise from discovery through the "double take" and the standout moments she had on TikTok, it was truly amazing. We knew he also had the real talent, music and artistry for a long career in music. You can't say that for all the artists who have those breakout moments from TikTok. We are delighted to help him realize his vision in the next phase of his career. – Aaron Stern, Senior Director of Marketing at RCA Records
Signing to a major label has given dhruv more resources and support to continue to grow with their existing audience and reach new fans around the world. While he's achieved many impressive milestones so far, what's most exciting is that his story is still being written. His audience today, based on his Spotify Top 50 Cities by Monthly Listeners, is still largely located in Southeast Asia and India. It also continues to build a strong following in Australia, Canada, the UK, Hong Kong, Taiwan and the United States. Although at first glance it might seem that dhruv is not gaining as much traction in these places, what is really happening is that he has so many more listeners in Indonesia, Malaysia, the Philippines, Singapore, Thailand, Vietnam and India as the numbers are overwhelming the other places in which he also has fans.
The globalization of music in the digital age can offer a dizzying array of markets and platforms to consider, but it just means there are so many more opportunities for artists to grow and connect. with their audience, no matter where they are in the world. . On that note, it wouldn't be surprising to see a Southeast Asia and India tour scheduled for dhruv in 2023, and if there's one thing his rise has proven, it's that he doesn't There's no more excuse for limiting dreams to traditional Western markets.